Conference tables are important. They bring teams together and are one of the main resources used when facilitating productive meetings and meaningful conversations. The design of these furniture pieces can change the way they that a team functions for the better. At Unique Concepts, we believe in the power of great furniture and want every company to reap the benefits for their employees.
Here are four ways that a conference table design can change the way a team functions: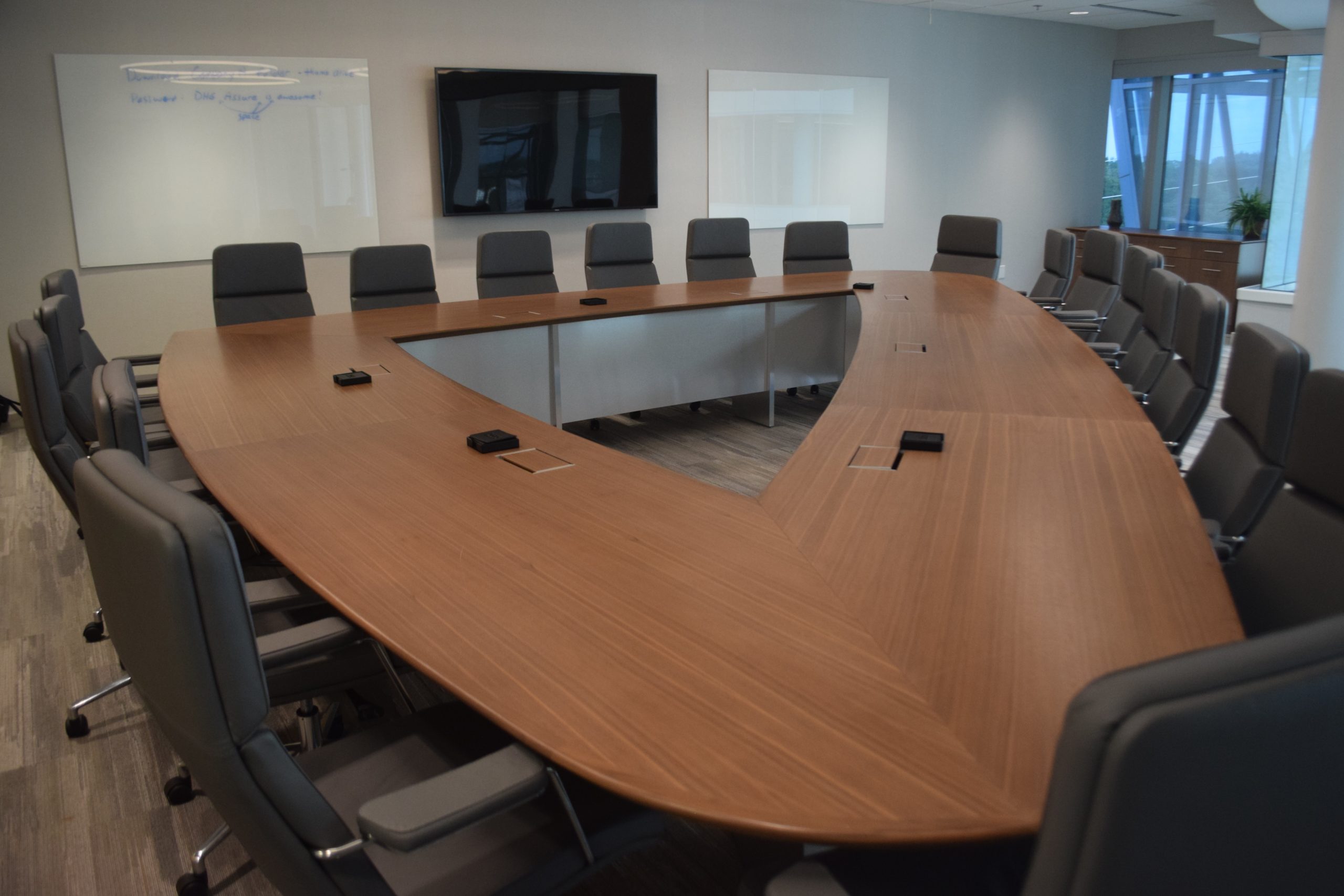 Shape: The shape of a conference table can change a lot about how a team functions. For example, a circular table is a great option to inspire and promote unity among a team with equal distancing and the opportunity to easily look at everyone.
Features: Tables nowadays are good for more than just sitting. There are many features and functions that can be added to them to help enhance the productivity levels of team meetings. By adding charging ports and channels for many different types of AV equipment, your meetings will be functional and enhanced in no time.
Space: The amount of space that conference tables can offer your team can improve the experience immensely. Creating a conference table with added space allows for more room to work, brainstorm, and carry out presentations. Because Unique Concepts builds each table to order, we are able to create a table that makes the best use of any space. For example, in the photo above, we built a table to fit in an irregularly-shaped room.
Size: Having a conference table that fits the size of the meeting is important. Large tables with only a couple of people can feel overwhelming. Having a table meets the size needs of the team can help to spark conversation and allow meetings to run more smoothly. The same also goes for tables that are too small. People don't want to feel like they are uncomfortable and on top of each other. This can even lead for things to be rushed without everything being discussed. At Unique Concepts, we can make good-looking conference tables that easily reconfigure into training tables, so employees can adjust their table size for each use.
Conference tables are not "one size fits all". Different designs work for different teams and companies. Having the design that is perfect for you is important. Contact us today so we can build the perfect design for you.