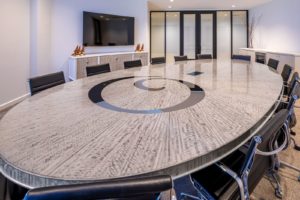 Happy fall! 2020 has been such a rollercoaster of a year. With everyone being inside more often due to the pandemic, redecorating has been many people's pastime. Whether it be the house, kitchen, office, or workspace, this year has freed up time to revamp it all.
Top fall office design trends in 2020:
Botanical workspaces:

Humans are naturally attracted to nature and do better when constantly interacting within it. Bringing aspects of nature into the workspace has endless benefits. Moss walls and indoor gardens are easy ways to bring nature into the workspace. During fall, one can incorporate fall leaves, plants, pumpkins, and warm colors to match the atmosphere outside.
Earth tones: Cool tones of blue and grey can bring an institutional feeling. As the weather cools down and days are getting shorter, many people would rather have a space with layers, personality, and warmth. Warm tones of brown, deep red, yellow, and olive green add a cozy atmosphere perfect for fall times.
High contrast black and white: Bold geometric patterns with this color pattern can be incorporated into furniture, flooring, or wall decor. The bold pattern adds drama to any office space while still having a timeless black-and-white look. Sophisticated, yet fun!
Smart furniture: Smart furniture has been on the rise, but with the recent pandemic, it has taken off tremendously within office spaces. The sleekness of the design and trendiness of the materials add a modern aspect to the office. The AI technology in smart furniture can remind one to stretch, alert a person when they're slouching, and even measure biometrics. The digital world continues to grow, and soon enough, our workspaces will reflect this.
If you're inspired by these top fall trends, make sure to contact us, for custom-built furniture to match any of your needs. Whether it be a new multi-functional desk for your office, or transformable shelving for a living room – You imagine it; We'll create it!